Khalid Jabaras family detailed a series of confrontations with Stanley Majors leading up to the shooting, including when he struck their mother with his car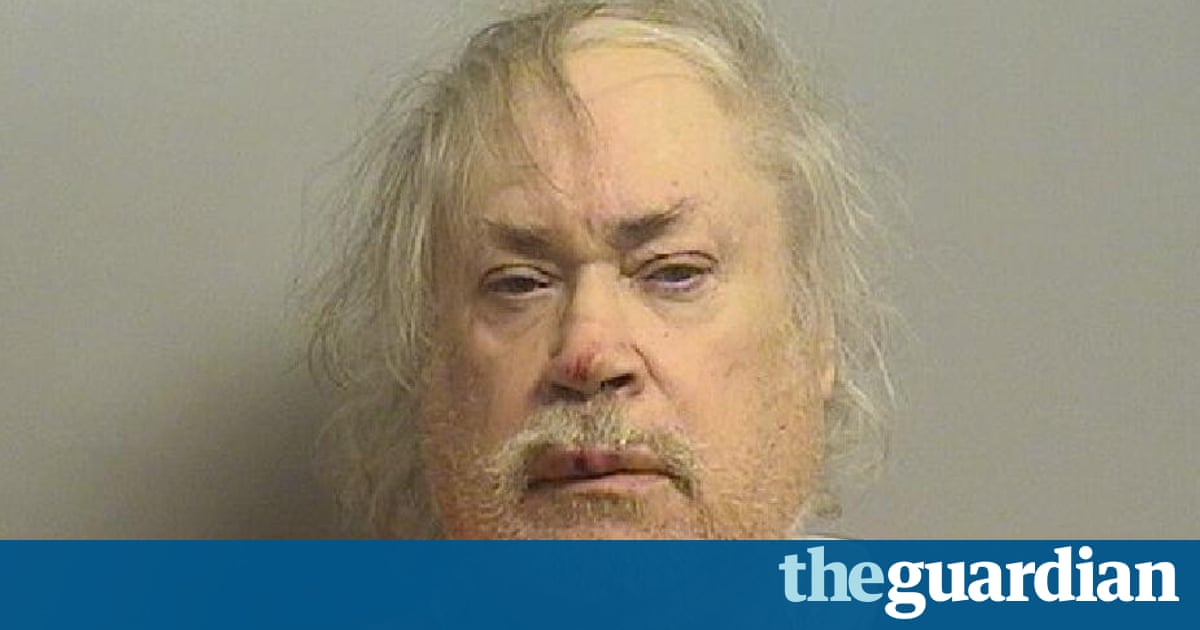 The family of an Oklahoma man shot to death outside his home are pointing to a history of criminal charges and racial slurs by the alleged killer.
Stanley Majors, 61, was arrested on Friday for first-degree murder by police in the city of Tulsa, over allegations that he shot and killed his neighbor, Khalid Jabara.
Members of Jabaras family issued statements after his death suggesting that police should have intervened sooner.
My family lived in fear of this man and his hatred for years, read a statement from the family. Yet in May, not even one year after he ran over our mother and despite our repeated protests, he was released from jail with no conditions on his bond no ankle monitor, no drug/alcohol testing, nothing.
According to a police report, Majors told the mother in March 2015: Fuck you and I want to kill you, in an incident that violated a protective order the family had against Majors. The mother said Majors used multiple racial slurs while standing in a driveway, the report said.
Victoria Jabara Williams, who purports to be Jabaras sister, described Majors on Facebook as a monster who called her family dirty Arabs and shot Jabara on his front porch only a half hour after police left his home.
At the end of the day, my beautiful brother had a heart like no other, she wrote. Sensitive to the core, he loved others so much and wanted to be loved back. Jabaras family couldnt be reached for comment on Monday.
Last September, Majors was charged with multiple felonies for striking Jabaras mother with a vehicle, leaving her with a broken left shoulder and injuries to her face, according to the charging document.
Majors drove away from the scene without seeing to the welfare of the victim, who was transported for emergency care, according to an arrest report. When officers arrived, the report said, Majors was extremely unsteady on his feet as he was stumbling around and falling.
Police said he had bloodshot eyes, slurred his speech, and was actively urinating, without the use of his hands, through his open pants.
The incident violated a protection order issued by Jabaras mother against Majors, which stated he not have any contact with her. It was the second time he violated the order.
Court records confirm that Majors was released on bail after more than eight months in jail, and that the charges against him were still pending.
The shooting took place just minutes after law enforcement had responded to a call from Jabara about Majors, according to Tulsa police homicide sergeant Dave Walker.
Jabara, 37, called police around 5pm on Friday about someone knocking on his windows, Walker told the Guardian. Jabara then had a conversation with Majors, and the suspect told [Jabara] that someone fired shots into the house, he said. Jabara responded that he didnt hear gunshots.
I do not know what was told to the officers that arrived, but they left the call at 6.40pm, Walker said.
Eight minutes later, police received another call: Jabara had been shot.
Following the incident, Majors pointed his gun at a witness and then fled on foot, according to a release from Tulsa police. When first responders arrived, they transported Jabara, 37, to a nearby hospital where he died from his wounds, police said.
As police were obtaining a search warrant for Majors home, he was discovered hiding behind a tree at a nearby library. Its unclear how long he was behind the tree. Police arrested Majors, but before he could be interviewed, he became ill and had to be transported to the hospital, police said. Officers recovered a single handgun, and no other suspects are being sought.
A motive is unclear, police said on Saturday, as we have not been able to talk to Majors.
Court records and interviews reveal a contentious history between the family and Majors.
Since the beginning of 2015, police have responded to over 50 calls to Majors residence, but Walker said on Monday that he couldnt confirm what they were about or in reference to. Some are alarm calls and report calls, he said. In the same timeframe, police received 20 calls from Jabaras residence, he added, and several of those refer to Majors.
In the hit-and-run case, prosecutors disclosed that Tulsa police were aware of ongoing neighborly disturbances between Majors and the family. One officer testified he had been dispatched to the Jabara household three times in one day following complaints about Majors, according to court records.
On the date Majors allegedly struck Jabaras mother, an officer said there was a dispute over a vehicle parked the wrong way in the street, records indicate.
The defendant discussed the disputes going on between the two households, including telling [the officer] that the victim and her family were filthy Lebanese and that they throw gay people off the roof, according to a court filing.
A message was left for an attorney representing Jabaras mother.
Majors himself sought a protection order against Jabara, claiming he trespassed and vandalized his home in December 2014. Majors said that Jabara knocked on his door at all hours, emailed him threats and used his address to order computer products, according to the petition for a protection order.
A judge the following month ruled that Jabara had to remain 30 feet from Majors at all times and refrain from having any contact with him whatsoever. Majors later sued Jabara for $1,500 related to damage in his kitchen. Jabara wasnt criminally charged in connection with the incident, court records indicate.
In the Facebook post, Williams described Jabara as a loving sibling with quick wit.
Ill miss his jokes (I stole all my jokes from him!), she said, his love for all things electronic, his love for my mom and dad, Rami, and this tenderness toward his nieces.
This angel will be missed, she continued. Love you, Khalid.
This article was amended on 16 August 2016. An earlier version incorrectly stated that Khalid Jabara had been released after eight months in jail. In fact Stanley Majors was released on bail.
Read more: http://www.theguardian.com/us